Golden Route(Tokyo-Kyoto) 6Days
 "Discover Japan" New Spot: City Like KYOTO with Great Nature in TOKYO Area
(Only 1hour 30min Drive from TOKYO, you can visit Old/Traditional Japan, Great Nature(Cliff, Beach, Geological Fault, 360digree view of Earth) and Sea Food.
"SAWARA/CHOSHI Port/INUBOU SAKI Cliff"
[Sample Tour Schedule & Price ]
08:00 Departure from TOKYO Hotel
09:30-10:00 arrive
-Katori Jingu shrine
-Sawara city
Travel arong ONO River on foot(can feel old Nostalgic Japan) 1h30min
12:00 to Choshi Port(Lunch)
14:00 Inubousaki
-Geological Fault(Byobugaura) 30min
-Inubousaki Lighthouse(View of great Cliff) 20min
-(If there is Time)Chikyu no Marukumieru Observatory(360 degree view of Earth/admission JPY 380.-) 30min
16:00 Head to Tokyo
18:30-19:30 Arrive Tokyo Hotel
[Price for Hire Car and Driver]
1-5 Passengers 
Standard Class(Prius) : JPY 70,000.-
1-6 Passengers(Premium Class Wagon)
TOYOTA ALPHARD or VELLFIRE : JPY 75,000.-
6-9 Passengers
TOYOTA HI-ACE VIP : JPY 80,000.- 
10-18 Passengers
Mini Bus : JPY 113,000.-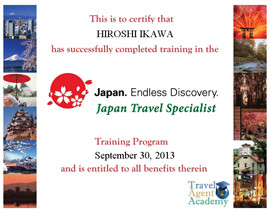 [Contact]
E-mail: sales@car-jtsa.com   /   Request Form: Reservation, Estimation
[Our Services]
-Chauffeur Service(Hire, Rent a car with Driver) from Premium Class to Reasonable Standard
 Class with English Speaking Driver
-Hotel, Japanese Traditional Ryokan and Reasonable Accommodation booking
-Be able to advise you place to see in Tokyo, Yokohama, Kamakura, Fuji Mountain,  even Kyoto and Osaka.
-Airport Transfer
-Driver is not only driver but also Tour Leader who has National qualification of Tour Leader.  
 Driver will assist whenever client need translation and assist and give them Idea where to go,
 then, take them to the place with the car quickly.
-etc..  We can coordinate everything you want in Japan!!
[JTSA Office]
1-29-9, Kanahodo, Asao-ku, Kawasaki, Kanagawa, Japan (next to TOKYO)