"TOKYO" Travel Information by Hire, Rent a Car - JTSA Japan transportation Service Association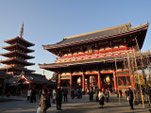 [ASAKUSA]
Asakusa (浅草) is the center of Tokyo's shitamachi (literally "low city"), one of Tokyo's districts, where an atmosphere of the Tokyo of past decades survives.
Asakusa's main attraction is Sensoji, a very popular Buddhist temple, built in the 7th century. The temple is approached via the Nakamise, a shopping street that has been providing temple visitors with a variety of traditional, local snacks and tourist souvenirs for centuries.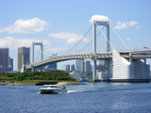 [ODAIBA]
Odaiba (お台場) is a popular shopping and entertainment district on a man made island in Tokyo Bay. It originated as a set of small man made fort islands (daiba literally means "fort")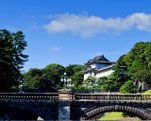 [IMPERIAL PALACE]
The Imperial Palace (皇居, Kokyo) is located on the former site of Edo Castle, a large park area surrounded by moats and massive stone walls in the center of Tokyo, a short walk from Tokyo Station. It is the residence of Japan's Imperial Family.
[SHIBUYA]
Shibuya is a center for youth fashion and culture, and its streets are the birthplace to many of Japan's fashion and entertainment trends. Over a dozen major department store branches can be found around the area catering to all types of shoppers. Most of the area's large department and fashion stores are Tokyu or Seibu, two competing corporations.
[AKIHABARA]
Akihabara has gained recognition as the center of Japan's otaku (diehard fan) culture, and many shops and establishments devoted to anime and manga are now dispersed among the electronic stores in the district.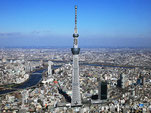 [TOKYO SKYTREE]
Tokyo Skytree  is a broadcasting, restaurant, and observation tower.  It became the tallest structure in Japan in 2010 and reached its full height of 634.0 metres (2,080 ft) in March 2011, making it the tallest tower in the world, and the second tallest structure in the world.  The view from the tower is amazing and breath taking.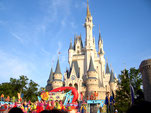 [TOKYO DISNEY LAND]
Tokyo Disneyland is a theme park based on the films produced by Walt Disney. It was opened in 1983 as the first Disney theme park outside of the United States. Modeled after Disneyland in California and the Magic Kingdom in Florida, Tokyo Disneyland is made up of seven themed lands and features seasonal decorations and parades.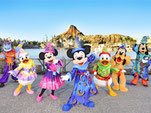 [TOKYO DISNEY SEA]
Tokyo Disney Sea is a fantasy theme park in Tokyo Disney Resort that is unique to Japan. Inspired by the myths and legends of the sea, Tokyo DisneySea is made up of seven themed ports of call: Mediterranean Harbor, Mystery Island, Mermaid Lagoon, Arabian Coast, Lost River Delta, Port Discovery and American Waterfront.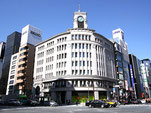 [GINZA]
The Ginza is Tokyo's most famous upmarket shopping, dining and entertainment district, featuring numerous department stores, boutiques, art galleries, restaurants, night clubs and cafes.
One square meter of land in the district's center is worth over ten million yen, making it one of the most expensive real estate in Japan. It is where you can find the infamous $10 cups of coffee and where virtually every leading brand name in fashion and cosmetics has a presence.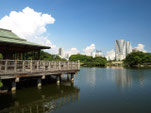 [HAMA RIKYU PARK]
Hama Rikyu Park, is a large, attractive landscape garden in central Tokyo. Located alongside Tokyo Bay, Hama Rikyu features seawater ponds which change level with the tides, and a teahouse on an island where visitors can rest and enjoy the scenery. The traditionally styled garden stands in stark contrast to the skyscrapers of the adjacent Shiodome district.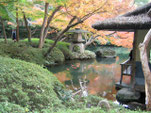 [HAPPOU EN]
Happo-en, a complex comprising a wedding banquet hall and restaurants, is located along Meguro Street, three minutes' walk to Shirokanedai Station. The term happo is Japanese for "eight directions."The hall was named "Happo-en"after the fact that guests can command beautiful views in every direction. The site was once the retreat of Okubo Hikozaemon, a famous feudal lord during the early Edo Period, known as a government advisor. Its Japanese-style garden of 50,000sq.m is well worth seeing. The garden shows its seasonal beauty; cherry blossoms in spring, azaleas in summer, moon viewing and beautiful leaves in fall, and snow landscapes in winter. (The garden is exclusively for the use of guests at the facility.)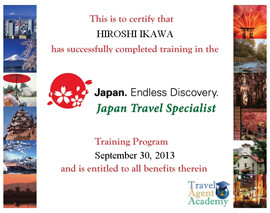 [Contact]
TEL from out side of Japan :+81-90-7738-3534 / inside of Japan : 090-7738-3534
E-mail: sales@car-jtsa.com   /   Request Form: Reservation, Estimation
[Our Services]
-Chauffeur Service(Hire, Rent a car with Driver) from Premium Class to Reasonable Standard
 Class with English Speaking Driver
-Hotel, Japanese Traditional Ryokan and Reasonable Accomodation booking
-Be able to advise you place to see in Tokyo, Yokohama, Kamakura, Fuji Mountain,
 even Kyoto and Osaka.
-Airport Transfer
-Driver is not onry driver but also Tour Leader who has National qulification of Tour Leader.  
 Driver will assist whenever client need translation and assist and give them Idea where to go,
 then, take them to the place with the car quickly.
-etc..  We can cordinate everything you want in Japan!!
[JTSA Office]
1-29-9, Kanahodo, Asao-ku, Kawasaki, Kanagawa, Japan (next to TOKYO)