"YOKOHAMA, KAMAKURA" Travel Information by Car Hire, Rent a Car JTSA Japan transportation Service Association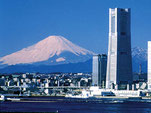 [YOKOHAMA]
Yokohama (横浜) is Japan's second largest city with a population of over three million. Yokohama is located less than half an hour south of Tokyo by train, and is the capital of Kanagawa Prefecture.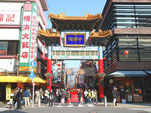 [CHINA TOWN]
Yokohama Chinatown (Yokohama Chukagai) is Japan's largest chinatown in Asia District, located in central Yokohama.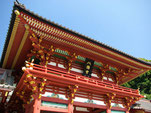 [Tsurugaoka Hachimangu Shrine]
Tsurugaoka Hachimangu Shrine is Kamakura's most important shrine. It was founded by Minamoto Yoriyoshi in 1063, and enlarged and moved to its current site in 1180 by Minamoto Yoritomo, the founder and first shogun of the Kamakura government.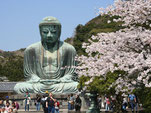 [The Great Buddha of Kamakura]
The Great Buddha of Kamakura (Kamakura Daibutsu) is a bronze statue of Amida Buddha, which stands on the grounds of Kotokuin Temple. With a height of 13.35 meters, it is the second tallest bronze Buddha statue in Japan, surpassed only by the statue in Nara's Todaiji Temple.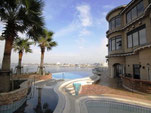 [ENOSHIMA ISLAND AND ENO SPA]
Enoshima is a pleasantly touristy island just off coast but connected by bridge with the mainland. The island offers a variety of attractions, including a shrine, park, observation tower and caves. Views of Mount Fuji can be enjoyed on days with good visibility.
The Enoshima Island Spa (Enospa) is a resort and day spa built along the rocky shore of Enoshima. The resort offers hot spring baths (enjoyed naked, gender separated) as well as indoor and outdoor pools (bathing suit required, mixed). Some of the pools are found in an artificial cave and there are views of Mount Fuji from the pools and baths on days with good visibility.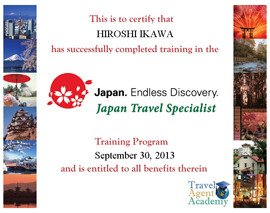 [Contact]
TEL from out side of Japan :+81-90-7738-3534 / inside of Japan : 090-7738-3534
E-mail: sales@car-jtsa.com   /   Request Form: Reservation, Estimation
[Our Services]
-Chauffeur Service(Hire, Rent a car with Driver) from Premium Class to Reasonable Standard
 Class with English Speaking Driver
-Hotel, Japanese Traditional Ryokan and Reasonable Accomodation booking
-Be able to advise you place to see in Tokyo, Yokohama, Kamakura, Fuji Mountain,
 even Kyoto and Osaka.
-Airport Transfer
-Driver is not onry driver but also Tour Leader who has National qulification of Tour Leader.  
 Driver will assist whenever client need translation and assist and give them Idea where to go,
 then, take them to the place with the car quickly.
-etc..  We can cordinate everything you want in Japan!!
[JTSA Office]
1-29-9, Kanahodo, Asao-ku, Kawasaki, Kanagawa, Japan (next to TOKYO)