"NIKKO" Travel Information by JTSA Japan transportation Service Association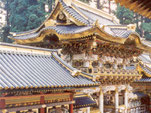 [NIKKO TOSHUGU TEMPLE]
Nikko Toshogu Temple (日光東照宮) is the mausoleum of Tokugawa Ieyasu, founder of the Tokugawa shogunate, which ruled Japan for over 250 years until 1868. The shrine is dedicated to the spirits of Ieyasu and two other of Japan's most influential historical personalities, Toyotomi Hideyoshi and Minamoto Yoritomo.
The lavishly decorated shrine complex consists of more than a dozen Shinto and Buddhist buildings set in a beautiful forest. Initially a relatively simple mausoleum, Toshogu was enlarged into the spectacular complex seen today by Ieyasu's grandson Iemitsu during the first half of the 17th century.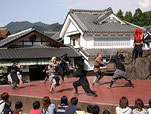 [NIKKO EDO THEME PARK]
Nikko Edomura (Edo Theme Park) is a history theme park recreating Japanese town life during the Edo Period (1603-1868). The park is really a small town built in Edo style architecture and populated by townspeople in period costume, and has been used as the setting for period tv dramas. Park guests have the opportunity to dress up as well (costumes can be rented for a fee) and tour the town's historically based shops and museums, participate in games and see live shows and theater.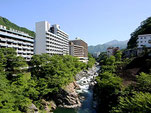 [KINUGAWA ONSEN SPA]
Kinugawa Onsen is close to Nikko, and is included in the free travel zone of many of the Tobu rail passes to the area. The town is a good place to overnight when visiting Nikko and can add a little fun and relaxation to complement the culture and nature of Nikko.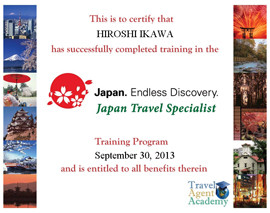 [Contact]
TEL from out side of Japan :+81-90-7738-3534 / inside of Japan : 090-7738-3534
E-mail: sales@car-jtsa.com   /   Request Form: Reservation, Estimation
[Our Services]
-Chauffeur Service(Hire, Rent a car with Driver) from Premium Class to Reasonable Standard
 Class with English Speaking Driver
-Hotel, Japanese Traditional Ryokan and Reasonable Accomodation booking
-Be able to advise you place to see in Tokyo, Yokohama, Kamakura, Fuji Mountain,
 even Kyoto and Osaka.
-Airport Transfer
-Driver is not onry driver but also Tour Leader who has National qulification of Tour Leader.  
 Driver will assist whenever client need translation and assist and give them Idea where to go,
 then, take them to the place with the car quickly.
-etc..  We can cordinate everything you want in Japan!!
[JTSA Office]
1-29-9, Kanahodo, Asao-ku, Kawasaki, Kanagawa, Japan (next to TOKYO)